If you have further questions or would like to participate as patient, please contact the team at the Centre Hospitalier de Luxembourg by phone or email. The examinations will take place at the Centre Hospitalier de Luxembourg or on one of the locations of our Flying Team, in Luxembourg or in the Greater Retiong. Our study team welcomes you in the study rooms that are located in the old Maternité building of the Centre Hospitalier de Luxembourg. Please use the separate entrance with the sign 'Parkinson Klinik' that is easily accessible from the parking of the old Maternité. 
We'd like to emphasize that the Luxembourg Parkinson's Study does not include any drug testing or treatment. We will not prescribe or offer any medication, nor do we change the therapy given by your treating physician. Therefore, no risk of treatment-related side effects exist for the participants of our study.
If you don't have Parkinson's disease and would like to participate as healthy control subject, please contact the team at the Luxembourg Institute of Health. We are looking forward to your visit!
This email address is being protected from spambots. You need JavaScript enabled to view it.

 

 

 

Parkinson's Research Clinic

Tel: 

+352 44 11 4848

Fax: +352 44 11- 48 48

 
 

Centre Hospitalier du Luxembourg

Ancienne Maternité

120, route d'Arlon

L-1150 Luxembourg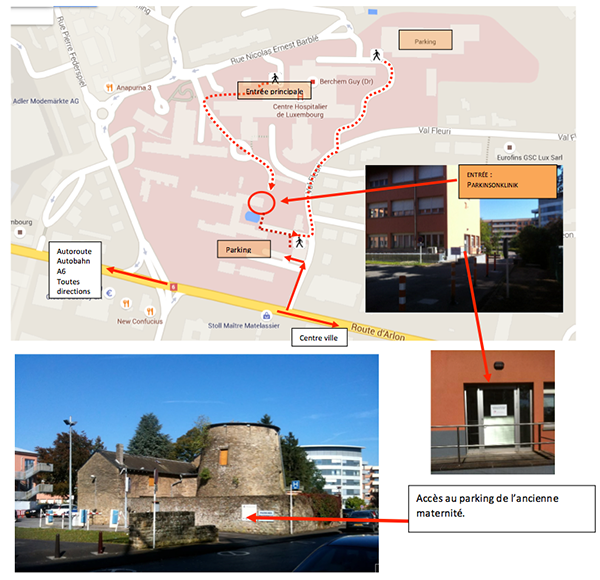 1. Arriving by plane at Luxembourg airport
Luxembourg airport, called Findel, is approximately 10 km away from the Centre Hospitalier de Luxembourg (CHL). You can take either taxi or public transport to reach CHL.
From Luxembourg airport you can take a taxi to CHL, which is near the city of Luxembourg. Trustworthy taxi services: Taxi Colux (www.colux.lu , tel: +352 48 22 33); Webtaxi (www.webtaxi.lu ; tel: +352 27 515)
Price: ca 40-45€ one way (in Luxembourg, taxis are very expensive)
Duration: 15-20 minutes (during rush hour 25-30 min)
by public transport (2€ for 2-hour validity or 4€ for the entire day)
From the airport, take line 16 (Eurobus) or 29 (they leave every 15 minutes) until the Luxembourg Central Station. From there, take bus 22 or 28 via Centre Hospitalier (trip duration 15-20 minutes) and stop at the bus station "Wandmillen". From "Wandmillen" bus station  to the clinic is about a 3-minute walk.
Price: 2 € (2-hour validity for the entire national public transport network)
Total trip duration: 20-30 minutes (including bus, train and walk).
2. Arriving by car
If you travel by car, please take the highway A6 in direction Luxembourg-City, and stay on that road until exit Strassen/Luxembourg-Centre. Then take the route d'Arlon on your left hand-side until CHL. 
3. Arriving by bus
You can also arrive by bus from Luxembourg City or Luxembourg Train station (bus 22 or 28 every 15 minutes). Please visit Mobiliteit to research your travelling options.
Bus line 22: Gare centrale - Paris/Zitha - Martyrs - Monterey - Charlys Gare - Service d'incendie - P+R Stade - Wandmillen - Kannerklinik - Strasse, Primeurs)
Bus line 28: Gare centrale - Monterey (to CHL) - Charlys Gare - Service d'incendie - P+R Stade - Wandmillen - Huorgarten - Aurelia - Benelux - Barblé - Kesseler - Geeseneck - Schoenacht - Belle Etoile - Ecole Européenne II
The bus stop "Wandmillen" is close to the old Maternity building and the Parkinson Clinic
4. Parking at the Parkinson Clinic
For the Hospital, the parking is accessible from Barblé street
short-term parking (limited to maximum 30 minutes, out of which 20 minutes are free) - (1,40€/half an hour)
P1 is an underground parking of 210 parking spots, under the Hospital (1,40€/hour)
P2 is a covered parking with 643 spots, next to the Hospital (1,40€/hour)
P3 is an outdoor parking with 240 spots, next to the Hospital (1,40€/hour)
A parking is also available next to the Maternity building (accessed from Route d'Arlon) (1,40€/hour)
The parking payment machines are situated at the main entrances of the two clinics. 
Moreover, our team will also be available for you within and outside of Luxembourg at the following sites:
For further information on the other locations, please contact the clinical team from the Centre Hospitalier de Luxembourg.
Can I withdraw from the collection?
You can withdraw your samples and clinical data from the collection at any time without giving a reason by contacting the Principal Investigator. If any part of your sample has already entered a research study, it cannot be removed from it. You may also withdraw your consent to participate in the online surveys at any time.